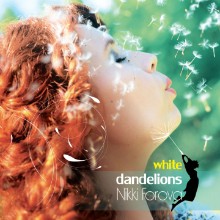 artist: Nikki Forova
album: White Dandelions
webseite: www.nikkiforova.com
facebook:www.facebook.com/nikkiforova‎
Nikki Forova
Nikki Forova is a Russian American singer-songwriter who built a following in the west of United States and Europe. She is known for her unique voice, whimsical, quirky and philosophical lyrics and powerful productions with influences of singer-songwriter, alternative and cinematic music.
She was born in USSR to a family of accomplished theater actors. Being an average family, they couldn't afford the piano, so Nikki went to local kindergartens to practice classical piano. When she was seven she got a black upright piano as a gift. After the wall fell, Nikki moved to the US. She received recognition through performances in the Los Angeles singer-songwriter scene and her MTV appearance doing a duet with Vanessa Carlton, of a hit song "A Thousand Miles."
The Album White Dandelions
Nikki's new album "White Dandelions" was finished in February 2013. She co-produced it with two world-known London producers: Andreas Olsson known for his productions of Mary J. Blige, Jason Mraz, Train and Patrick Wood who produced Youtube wonder, Emily and The Woods. In March Nikki the album on her White Dandelions US Tour 2013.
Highlights
- Final winner of 2007 National MTV Duets: performed a duet with Grammy Nominee Vanessa Carlton
- 2010 & 2011 Independent Tour in Europe with Shaun Canon, an American Idol and USA: 116 shows
- Winner of 1996 National Vocal Performance Competition and National Dance Completion, Ukraine
Video


Video MTV Duett with Vanessa Carlton